Yes. All products come with warranties with varying durations. You may easily locate and compare the warranty of each product here: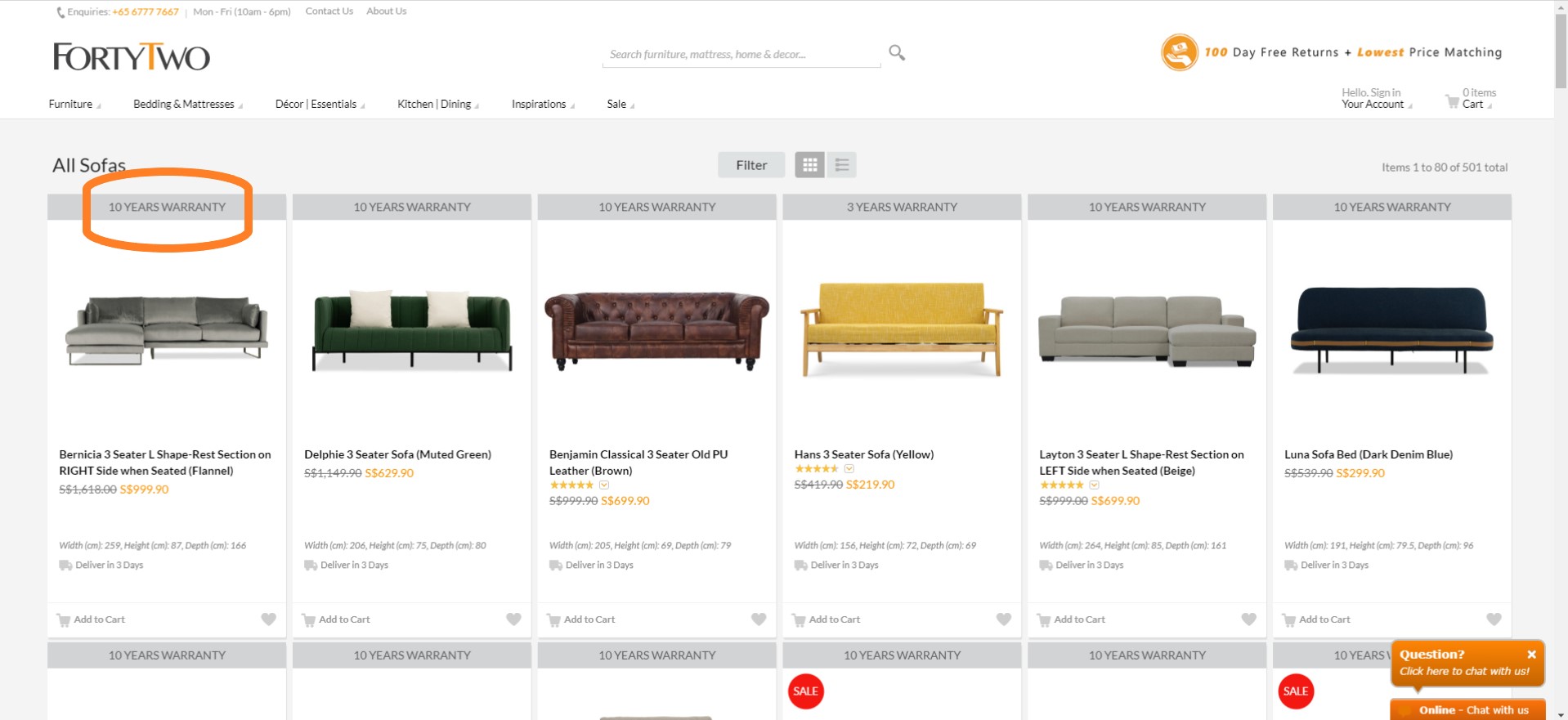 Additionally, here's a more detailed breakdown of the current warranties:
Furniture
Our furniture comes with warranties for up to 10 years on manufacturing defects (not including wear and tear or misuse), unless otherwise stated. If you detect any manufacturing defects or damages which are not caused by misuse or wear and tear, please take a picture of the problem and send it to cs@fortytwo.sg with a brief explanation of the problem, including the order invoice number that can be found in the confirmation email sent to you, and the date of purchase. We will then contact you and arrange for our service team to assess the situation. In most cases, repairs will be done. However, if the product is deemed beyond repair by the service team, we will exchange the product for an identical or a similar one of equal or greater value, subject to availability. FortyTwo Pte Ltd reserves the right to make the final decision on whether to repair or exchange the product, as well as the replacement product, should an exchange be necessary.
Mattresses
Our mattresses may come with warranties of up to 20 years. Different mattress models have different warranty periods directly provided by their respective manufacturers. Warranty cards and/or relevant warranty details may be found packed together with each mattress. While each mattress manufacturer's warranties may differ, they generally cover the internal spring unit from defects such as serious sagging that is not caused by normal wear and tear, as well as broken and/or collapsed springs. Please read and follow the instructions on the attached warranty card. Do remember to fill up and submit your warranty application immediately after your purchase for it to be effective.  
Electrical Appliances
Warranties (if any) for all electrical appliances sold on FortyTwo Pte Ltd are provided directly by their respective manufacturers and are stated clearly in the product descriptions. Warranty cards and/or relevant warranty details (if any) can be found packed together with the appliance and should be submitted immediately upon purchase.
Warranty claims must be taken up directly with the relevant manufacturer, as long as it falls within the 'Faulty Exchange Window' of 7 days. One hundred (100) days Free Returns is not applicable for electrical appliances that are under warranty claims. After the faulty exchange window of 7 days,  FortyTwo will not take in any electrical appliance for exchange, servicing, or refund.
All Other Items
The following items are not covered by any warranty: pillows, bolsters, mattress protectors, mini sofa beds, foam mattresses (under the bedding accessories category), and all clearance/1 SET OFFER/AS-IS items.
Here are some other terms and conditions regarding warranties:
Warranties do not cover wrongly assembled products that are assembled by the customer.

Warranties are covered for local orders only and are not applicable to products exported out of Singapore mainland.

Warranties shall become void if the products have been used for commercial purposes as such usages that expose the products to heavy use, thereby causing proneness to damage beyond normal wear and tear.