FortyTwo is a rapidly growing online marketplace and largest locally-bred e-commerce site in Singapore with a diverse catalogue spanning over 8,000 items.
Not only do we seek to provide our customers with the ultimate shopping experience, we are also constantly on the lookout for third-party vendors, otherwise known as Sellers, to add greater variety to our growing catalogue and to make shopping on FortyTwo.sg more exciting and satisfying.
FortyTwo facilitates these Sellers' transactions on FortyTwo.sg and provides them with the expertise that they require to sell online.
If you're interested in becoming a valued Seller on FortyTwo.sg, please click here for more information.
Items sold by Seller
Items sold by Sellers are labelled with Seller information in their product page's "Essential Info". The fulfilment of items varies between Sellers. As stated in the following example, items sold by Becheras Holdings Pte. Ltd will be delivered by FortyTwo Pte Ltd. 
Most of FortyTwo's sales promotions exclude items that are sold by Sellers. This item, for example, will not qualify for the promotion.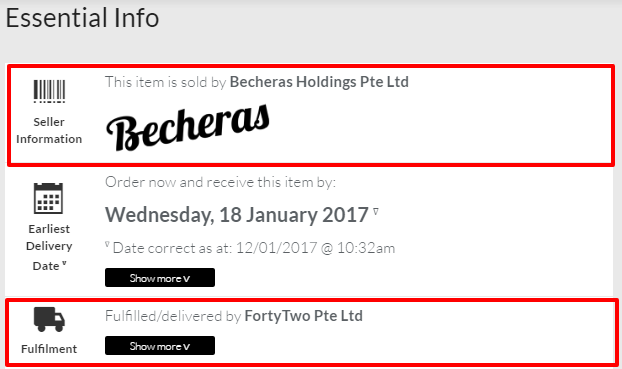 Items sold by FortyTwo Pte Ltd
Similarly, items sold by FortyTwo Pte Ltd are labelled accordingly within the "Essential Info" segment on their product pages. All items sold by FortyTwo Pte Ltd are fulfilled by FortyTwo's Delivery Team.
Typically, most items sold by FortyTwo Pte Ltd qualify for FortyTwo's sales promotions, unless otherwise stated.